Ships in 4-6 weeks
This item is for pocket use. (Does not have a clip)
Item: Slim Mini Pocket Jax, an organizer for a knife, flashlight and pen. 
Sizing
Mini: knives known to fit include: standard Swiss Army Alox Knife or Benchmade Proper Mini Bugout, Small Chris Reeve Sebenza 21 sized knives. 
Slim: Flashlight fits small Olight i3t EOS, Streamlight Microstream and similar sized .60 inches in diameter flashlights, no more than 3.5 inches in length.
Pen

: 

known to fit Fisher Space bullet pen or Kaweco Lilliput, similar sized small pens. 
From the Maker: Handcrafted leather gear made using traditional methods from a family owned and crafted small business. 
Listing is for leather gear only. No accessories included.  
Customer Reviews
Write a Review
Ask a Question
10/15/2022
Dean J.

United States
My Perfect Little Pocket Organizer
After 7 months of use the Slimi Mini Pocket Organizer has held up phenomenally. The leather has got through a lot because it is often times in the same pocket as my keys or thrown into a pack. Im not the biggest fan of how the wear and tear currently looks but hopefully with time it will get better. The stitching and elastic have been fantastic with no breaks. This organizer also somewhat fits a Leatherman Skeletool. I used it in mine with the pocket clip for a short period of time. After that experience of indenting the leather I switched to the PowerPint with the pocket clip removed. PowerPint is snug in there now thanks to the leather reforming. This goes in my pocket everyday during the week. SOG PowerPint Reylight Mini Pineapple Big Idea Design Mini Click
07/20/2022
Tom O.

United States
03/28/2022
Dean J.

United States
Perfect pocket organizer
The build quality is amazing. Love the feeling on the materials and looks like it will mold to the gear I have inside of it very nicely. Have a ReyLight Mini Pineapple and Big Idea Design Ti Mini in the sides while the middle pouch is still empty until I find something I can commit to having in there.
11/22/2021
Joe C.

United States
First Impressions
I just got this in the mail so I can't speak for longevity or durability, I can however, tel you that this thing reeks of quality. Leather is gorgeous and soft. Smells great if your weird like me and smell all new leather things. Can't find a flaw in the stitching and is just as small as I thought it would be. Holds my stuff very tightly so I'm sure it will break in like the included instructions say. I bought this on a whim and wasn't expecting much but I can honestly say I am as giddy as a school girl. My space pen is nearly 11 years old and has fallen out of my pockets a couple million times and I even lost it for a month one time only to discover it in a couch cushion. I've been looking for a long time for a good way to fasten it to my wallet and this looked like a good solution, but to my surprise it turned out to be a great solution. Quick shipping and beautiful craftsmanship. I will be a repeat customer for sure. Just have to see what I convince myself I need next. Buy with 100% certainty you are getting a quality product. I never leave reviews until I've carried or used something for at least two weeks but this is an instant recommend.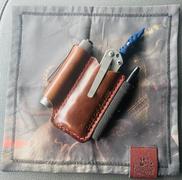 10/17/2021
D. Greco

United States
Great little organizer
I bought this organizer to bring some much needed order for the items I carry in my pocket. This pocket caddy holds a Benchmade mini bugout, Olight I3T-EOS Ti, and a Fischer Space pen quite nicely, and adds a touch of class or my daily routine. Overall, I give the product a 4.5 out of 5. A solid leather organizer.