Multitool Push Up known to fit: Leatherman Free P2 or P4, Wave+, Signal, Rebar or  Charge TTI (requires extra break in time).Victorinox Spirit X Multi Tool, Gerber MP400. If you need one with a Keypster click HERE
+ Flashlight

known to fit up to .91 inch diameter flashlight, a Fenix PD25 or Olight S2R Baton 2 or Baton Pro. 

+

T Tux

Pen style for larger and longer pens, fits Gerber Impromptu Tactical Pen, Fenix T5 TI tactical pen, regular sized Sharpie. Fits pens up to .45 inches in diameter and up to 5.6 inches in length. 

Pen must have clip, works best with solid piece

click

 pens.

Sizing Belt Clip fits 1.5 inch wide belt. Belt Loops fit 1.5 wide belt, up to 1.75 if noted at checkout.
From the Maker: Handcrafted leather gear made using traditional methods from a family owned and crafted small business.
Listing is for leather gear only, no tools or accessories included.
Customer Reviews
Write a Review
Ask a Question
11/12/2022
Garry V.

United States
User Friendly EDC
Very satisfied with this specific purchase. Fits perfect and exactly what I needed for my everyday carry.
08/26/2022
Rulon J.

United States
Loving it
I've been using it for a couple weeks now absolutely fall in love with it
07/28/2022
JoeBob M.

United States
Everything I hoped for
I've got a Leatherman rebar, microtech kyroh pen, and Olight warrior mini in this product and they fit great. The pen is a little more snug than I would want but I believe that's due to the pen shape not the t tux. I love the look and it wears super comfortably.
04/23/2022
Waylon M.

United States
T Tux Multitool Push ☝
OMG words cannot explain how convenient this handmade leather gear is. Very well constructed American made quality you can't be I do believe this is my fourth purchase and I will be purchasing more do not hesitate just buy you won't be disappointed tale of knives is the Shiznit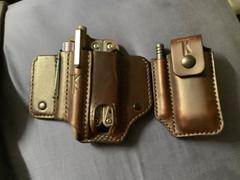 02/26/2022
Steven W.

Canada
Highest Quality Craftsmanship
My T-Tux push up is still on break in period, BUT it's is one of, if not the highest quality leather product I own. I am currently rocking a black/black but intend to buy another color variation to suit different carry and outfits. Thank you for the great product!! Steven.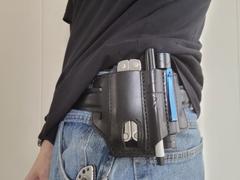 02/05/2022
Victoria M.

United States
Verified Purchase
My husband absolutely loves his—took a while to get, but worth the wait!
07/30/2021
Evan D.

United States
Hecken Incredible
Aside from incredible craftsmanship, the good looks and the inherent durability, the customer service is second to none. I recommend this company and their products to ANYONE.
07/07/2021
Waylon

United States
Made in America!!!!
This is the best EDC leather carry for your multi tool/pen and flashlight. Well worth the wait and shipping was super fast. Every comfortable and is breaking in nicely. I have the leather man charge TTI and it's molding to it fast. It holds the items securely. The black leather with the red stitching looks amazing. Will definitely be a repeat customer.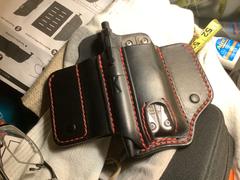 05/10/2021
Nicholas B.

United States
Genuine Quality Leather! Very Happy Purchase!
I went with the black leather with red stitching on the T-Tux Push Up with the double belt clips. I'm extremely satisfied with my purchase! I use a Leatherman Charge TTi and its a very snug fit for now, but with time, I'm sure the holster will mold to it as it breaks in. The black leather with red stitching is very cool looking! It has a tactical sports car kind of look to it. I love it! I would recommend these holsters all day! I'll probably go with a Keypster one next time, but for now the T-Tux is perfect! I can't wait to get a Olight Baton Pro to go with it! I love your guy's leather work! Keep it up!
04/19/2021
James M.

United States
Awesome EDC
I wasn't sure if I would like a belt carry with so much in it. It took some breaking in which is to be expected. After that I don't seem to notice it until I need an item from the pouch. It carries my olight, crunch, and tactile turn pen without an issue. Would definitely recommend the item if you are someone that wants your pockets free and your edc items more organized.