Item:
Mini Trio Clip
Belt clip carry for a tool, flashlight and pen. The difference is in the size!
SIZING:
 Mini Trio:
Tool: known to fit include: standard Swiss Army Knife or Benchmade Proper, Small Cris Reeves Sebenza 21 sized knives. 
Flashlights: Flashlight fits small Fenix or O-light, such as a S1 Mini Baton. 
Pen

: 

known to fit Fisher Space pen or Kaweco Lilliput.
Clips fit a belt measuring 1.5 inches wide on most bottoms such as jeans, business pants or leggings!
From the Maker:
100% handmade

 

- hand cut, hand dyed and hand stitched
Quality leather - Full grain American tanned cow hides create a unique patina in time
Hand dyed - giving each and every item a unique appeal full of character
Tiger Thread - known for its strength and durability
Handcrafted leather gear made using traditional methods from a family owned and crafted small business.
See Size Check page for additional FAQ
https://taleofknives.com/pages/size-check
Customer Reviews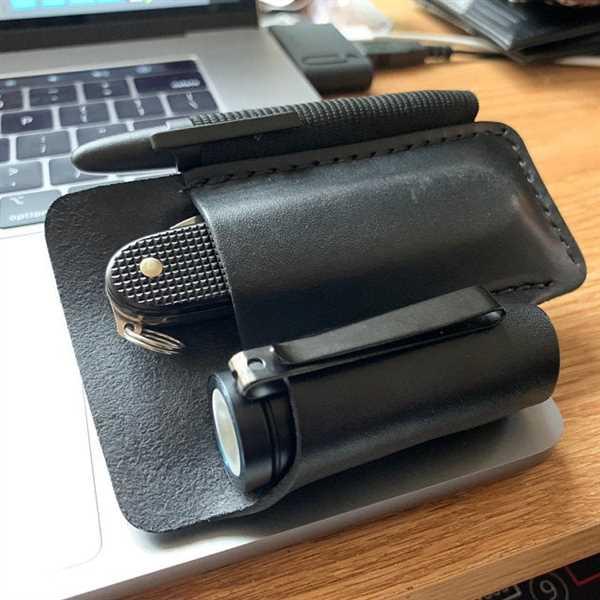 05/06/2020
Perfect Fit
Absolutely gorgeous and immaculately crafted. It fit my EDC items perfectly.
James B.
United States
04/18/2020
Incredible gear
3rd of 4 purchases from this seller, with good reason. They just make incredible gear. These are too men as a purses are to ladies. A d@mn fine accessory that you should have multiple of... I have no issue being a tester of you guys are looking for one.
Alex
United States
04/18/2020
Exactly what I needed!
This is exactly what I was looking for. It's perfect. The craftsmanship is top notch. I did wet the leather when I first got it and wet formed it to my knife and flashlight. I absolutely love this and wear it everyday, even in my dress clothes. I will be buying more for friends. Thank you for such a nice product!!
Vinny
United States