Customer Reviews
01/02/2021
Jay

United States
WOW ❗Awesome piece of gear.
It is what i expected from good old fashioned American solid Craftsmanship. Discreet, comfortable E.D.C fits perfectly. ThankU very much. ❗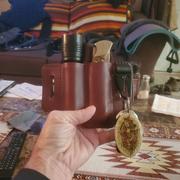 04/27/2020
Roman

United States
Its perfect
Just got it in the mail and it was def worth the wait. Can absolutely tell its made to last, real leather and hand made. This is going to outlive my leather belt. My Olight and benchmade fit perfect. Snug fit that with use will end up working itself like with anything real leather. Im def going to buy again.