Customer Reviews
Write a Review
Ask a Question
05/10/2021
Trevor G.

United States
Perfect!
This is just what I was looking for. I have worn it every day since getting about 6 months ago and is holding up great. I rotate between a benchmade bugout and 940, a small sebenza, and my favorite to carry in it would be a microtech utx 85 and the olight baton2. I liked it soo much i just got the xl so i can carry my hinderer xm18 3.5 skinny and pm2 which also fit great if I need something bigger for the day. Thank you TOK and keep up the great work!
01/02/2021
Jay

United States
WOW ❗Awesome piece of gear.
It is what i expected from good old fashioned American solid Craftsmanship. Discreet, comfortable E.D.C fits perfectly. ThankU very much. ❗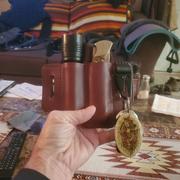 04/27/2020
Roman

United States
Its perfect
Just got it in the mail and it was def worth the wait. Can absolutely tell its made to last, real leather and hand made. This is going to outlive my leather belt. My Olight and benchmade fit perfect. Snug fit that with use will end up working itself like with anything real leather. Im def going to buy again.