Item: Belt clip carry for a tool, flashlight and pen. The difference is in the size!
Tool: known to fit include: (1.2 inches wide and 4.6 inches in length)   Benchmade 940 and Benchmade Bugout, ZT 0450CF or 0470, and Chris Reeve large

Sebenza 21, Leatherman Skeletool. 

Flashlight: known to fit up to .91 inch diameter flashlight, a Fenix PD25 or Olight S2R Baton 2, Olight Warrior Mini.
Pen: known to fit Fisher Space pen or Kaweco Lilliput.
Clips fit a belt measuring 1.5 inches wide, up to 1.75 inches.
From the Maker: Handcrafted leather gear made using traditional methods from a family owned and crafted small business.
Customer Reviews
Write a Review
Ask a Question
05/29/2021
CHRIS L.

United States
Standard Trio Clip
I love this model this is my second model the first was the Jax clip-on. Both are top quality builds but with my Microtech UTX-85 the glass breaker sticks up and is not comfortable for EDC. But with the taller back piece on the standard trio it's perfect. I should have paid more attention when I was ordering the first time but if you are a slimmer build the Jax will be just fine. Again both are top quality materials and construction. So if you have a little extra above the belt line and your knife sticks up above the pocket clip look at the models with the taller back leather.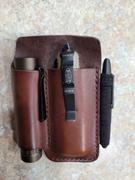 03/27/2021
MATT T.

United States
Excelent!
I have worn it every day since I received it. It has freed up a lot of space in my pockets and is so comfortable I have to check throughout the day that it's still there. I love it.