Item:
XL Trio Clip
Belt clip carry for a tool, flashlight and pen. The difference is in the size!
XL Trio:
Tools: (1.7 inches wide 5 inches length) known to fit: Spyderco PM2, ZT 0562CF and Benchmade Triage sized knife. Leathermans Signal.
Flashlights

known to fit up to .91 inch diameter flashlight, a Fenix PD25 or Olight S2R Baton 2.

Pen is known to fit Fisher Space Pen or Kaweco Lilliput sized pen. 
Sizing: Clips fit a belt measuring 1.5 inches wide, up to 1.75 inches wide, or most bottoms such as jeans, business pants or leggings!
From the Maker:
100% handmade  - hand cut, hand dyed and hand stitched
Quality leather - Full grain American tanned cow hides create a unique patina in time
Hand dyed - giving each and every item a unique appeal full of character
Tiger Thread - known for its strength and durability
Handcrafted leather gear made using traditional methods from a family owned and crafted small business.
See Size Check page for additional FAQ
https://taleofknives.com/pages/size-check
Customer Reviews
04/22/2020
Frees my pockets!
Awesome item to clear up my pockets!
Phalto
United States
04/19/2020
Great organizer
Excellent quality and delivered on time. Thanks again for another great tool organizer!
Mila
United States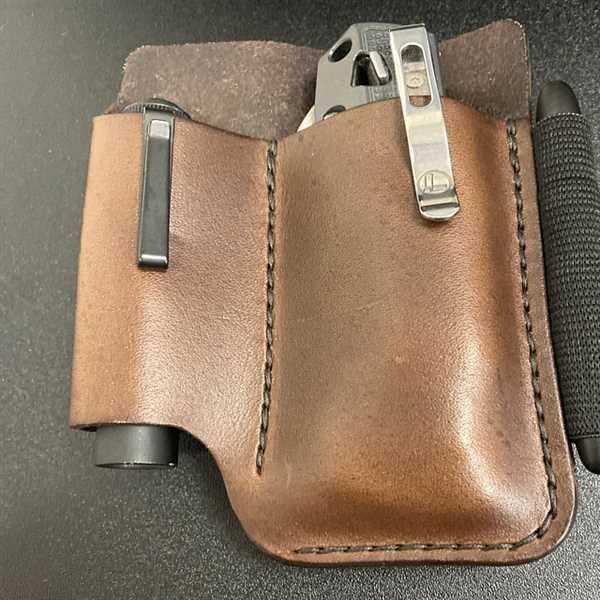 04/19/2020
Quality leather!
High quality leather. It fits my gear perfectly. The clip is sturdy and holds the pack up nicely on a belt (not too much sag for the weight). I have a h Free K4 knife, a Fisher Space pen, and a StreamLight Microstream flashlight. The leather is breaking in nicely with the K4.
Chad
United States
04/18/2020
Sleek feel
XL Trio +. Works for my Leatherman Wave +, Bit extension, and my Olight M1X Striker flashlight. All three feel secure and in place. It has a sleek feel to it and it also feels light as I carry it on my belt. Definitely interested in selecting other items from this line of products.
Ivan
United States