Podster +Keypster  for Apple AirPods + Keys
Sizing: Fits Apple AirPods Pro and AirPods (2nd and 3rd gen- deep fit) 
Belt loop fits standard sized belts of 1.5 inches wide
From the Maker: Handcrafted leather gear made using traditional methods, Wickett and Craig Full Grain Leather, straight from a family owned and crafted small business.
 Listing is for leather gear only, NO tools/accessories included. 
Customer Reviews
Write a Review
Ask a Question
05/13/2022
andrew b.

Canada
Podster review
Very pleased with this item. Rock solid construction and an excellent marriage of function with form.
03/05/2022
Greg W.

United States
Best craftsmanship!
Their products are top notch! Easy 5 stars
02/05/2022
Chad H.

United States
A big help
I hate having to many things in my pockets. Keys was enough but then you throw in AirPods and now it's all bad. TOK offers a eloquent solution in a well handcrafted manner. Will be buying more products to fit my needs
01/29/2022
Roman R.

United States
Podster
This is perfect for my AirPods . I use to hate caring my AirPods in my pockets. I recommend AirPod holder only the key holder I don't use .
01/21/2022
David R.

United States
01/10/2022
Lex O.

United States
Must-Have for Travel and Day-to-Day
Ordered for my boyfriend who is constantly losing his airpods and keys! Quality is outstanding and the fact that it easily attaches to any belt helps keep everything in one place.
11/25/2021
Joaquin H.

United States
All black pod ster + keypster
It's great. Keeps my air pods handy and not hanging. Hate that. Well made. Looks great.
11/08/2021
Vincent B.

United States
Buy this!!! Very awesome.
Love this! Very genius EDC. Makes it super easy to access my EarPods by just slipping the case up halfway, and then opening the case flap, grabbing an EarPod and going. I think wearing an Apple Watch on the wrist is pretty lame, so what I do is just clip the Apple Watch to the key spade. that way I can go without my phone and just use the watch as a pager. Now the phone is not in my pocket very much, meaning minimal radiation to my nards. As a landscaper, its nice to keep as minimal on me as possible. This has helped me keep my watch and earphones out of my pocket.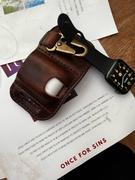 09/15/2021
Jose B.

United States
I love it. Great quality fits just right.
09/05/2021
Jason H.

United States
Podster + Keypster
Excellent leather quality! Fits great. Can't ask for more!
08/19/2021
Kevin R.

United States
Convenient
Overall, great. My everyday carry and thanks to it I will never lose my keys or AirPods!
08/06/2021
Josh S.

United States
Great quality!!!
Very good quality and workmanship.
07/30/2021
Carlos A.

United States
Best invention ever
I use this daily when I'm not in a uniform, the perfect way to carry my Apple AirPods and keys. great quality as well, thank you so much.
07/28/2021
Aaron L.

United States
Great product!
Product is awesome! Fast service no hassle and it works great!
06/22/2021
Fernanda T.

United States
Best gift
It was the favorite gift for my husband, he loves the quality
04/23/2021
Ibeth R.

United States
Just get it!
My husband loves it so much!