T- Tux Double Clip Multitool Push Up + Flashlight +Keypster
Handmade everyday carry
leather 
Multitool gear sheath.
Multitool Push Up known to fit: Leatherman Free P2 or P4, Wave+, Signal, Rebar or Spyderco Para 3. Charge TTI (requires extra break in time).
+ Flashlight

known to fit up to .91 inch diameter flashlight, a Fenix PD25 or Olight S2R Baton 2 or Baton Pro. 

+ T Tux Pen fits Gerber Impromptu Tactical Pen, Fenix T5 TI tactical pen, regular sized Sharpie. Fits pens up to .45 inches in diameter and up to 5.6 inches in length. 

Pen must have clip, works best with solid piece

click

 pens. 

+ Keypster fits normal sized key rings
Style: (Double Clips) Belt Clips fit 1.5 inch wide belt. 
 Listing is for leather gear only, NO tools/accessories included. 

Customer Reviews
Write a Review
Ask a Question
11/27/2022
Evan I.

United States
Exceeded my expectations
Stumbled upon ToK when searching for a leather sheath for my Leatherman. I carry a pen and a light everyday as well, so this was a great purchase to consolidate my stuff. I carry this T-Tux at work and love the key clip. Quality is excellent, the leather is quite stiff at first but is breaking in wonderfully. Very easy to pull my tools, and the sizing guide that ToK states seems spot on. For reference, I have a P4, Protac 2L, and a TT mini skinny bolt pen. Like it so much I'm ordering another, smaller setup as well
04/30/2022
Brent B.

Canada
03/02/2022
Kaine L.

Canada
12/18/2021
steven m.

United States
So far so good
Its as advertised. Ive been using it for about 3wks now. Looking forward to it breaking in more so its not so difficult to remove the flashlight and pen. But then again if it was loose already then Id have to question how long it would last. For me the double clip was the way to go. My job duties frequently require lying on the ground to get access to what Im working on. In the past I had to adjust myself in awkward position or remove my belt completely. Now, in less than 5 seconds, I can remove all my devices to be comfortable and keep my belt where its belongs, holding my pants in place.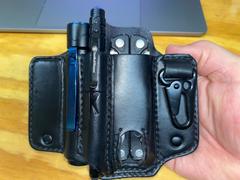 11/23/2021
Stacey H.

United States
Love it
This tool is exactly what I was needing and exceeded my expectations. Quality made, and will last a long time. Will purchase from again.
09/30/2021
Justin S.

United States
Excellent EDC
This item has been on my wishlist for awhile and I'm happy I finally placed my order. Since the items are hand-made to order it did take the noted 7 weeks to ship. Once the product arrived, I was very pleased with the quality and craftsmanship. It took a few days of leaving my items in the leather to break it in. I have a Leatherman Wave multi-tool, Streamlight Macrostream USB flashlight, and Zebra Permanent marker. Now my pockets are freed up and I have easy access to these items that I use throughout the day. 5 stars and will definitely recommend to others!
07/30/2021
Joshua M.

United States
Great quality!
I carry it on me everyday now. Even bought a new flashlight just to fill it up. Buying to more as gift for Christmas!
06/26/2021
Brett M.

United States
Exactly what I was looking for.
I have been looking for something like this with belt clips for awhile. The quality is Great and the clips are solid. Exactly what I needed!
05/16/2021
Jack T.

United States
Better than I expected
Great design Fantastic quality and superb craftsmanship. Highly recommended!
05/02/2021
Alex A.

United States
Great handcrafted product many people have asked "we're did you get that"
Awesome! Still needs some breaking in but what a quality product!
03/19/2021
Trevor K.

United States
quality unmatched
it has already begun to break in after a few days of use. stitching appears to be extremely good quality and it is well worth ever penny and weeks of wait time.